Raves from Tarot Zamm's happy clients.
It is humbling and fulfilling, as a Tarot reader, to come to you highly recommended by my clients overseas and in New Zealand. Feel free to check out what they say. You can also click the TripAdvisor widget on the sidebar for more client feedback.
Group TAROT Readings Reviews – Corporate Functions
Logan Brown Restaurant and Bar:
"Zamm, thanks so much for the great job you did entertaining our guests for our New Orleans brunch function. Your warm charming beautiful presence brightened our dining room and all our guests loved the experience of you reading their tarot cards." ~ Steve Logan
Mercure Hotel Christmas Party:
Some comments from the guests:
~ "Fantastic!"
~ "This speaks to me, and makes a lot of sense."
~ " I'm not usually someone who would get there tarot read, but I am so glad I did. She was professional and a lot of fun. Great experience"
~ "I would highly recommend ZAMM to anyone!! "
~ "Thank you for a great night!"
James Cook Hotel Grand Chancellor:
Hi Zamm,
Thank you again for reading at our function. The general feedback I've received from guests and colleagues is that your presence there was very nice.
Most guests found it very interesting and liked that you managed to fit in a lot of readings in the space of 2 hours.
I did give out the address of your shop to a lot of guests, so hopefully, they will turn up for a more in-depth reading soon! The only difficulty was the lack of quiet and that's is not your fault at all. I didn't realise the music would be so loud. Please accept my apologies for that.
Thanks again and I look forward to seeing you again soon.
Regards,
Vashna Sahay | Sales and Marketing Executive

Book Zamm for a Group Tarot Reading at your event.
Minter Ellison Rudd Watts:
Hi Zamm,
We all really enjoyed having you and everybody had positive feedback from their experience with you. Sorry, we got the timing wrong and it was great you managed to come when you did! Booking the event and corresponding with you was very easy and we all thought you presented yourself very well! I would definitely recommend you to others! Many thanks, Lucy C.
OMD and Clemenger BBDO:
From start to finish Zamm was a delight to work with, easily contactable and readily provided any extra information I needed. For such a low maintenance addition to our party, the tarot reading was such a success – guests have been telling us they really enjoyed their readings and that 'she really GOT me' (as one person put it). The whole thing was seamless and easy, and Zamm worked tirelessly through many readings for 4 hours! The mystery and novelty of having Tarot card readings available for our guests really helped the party succeed – it was a great talking point throughout the night. Thanks again! Kelly R.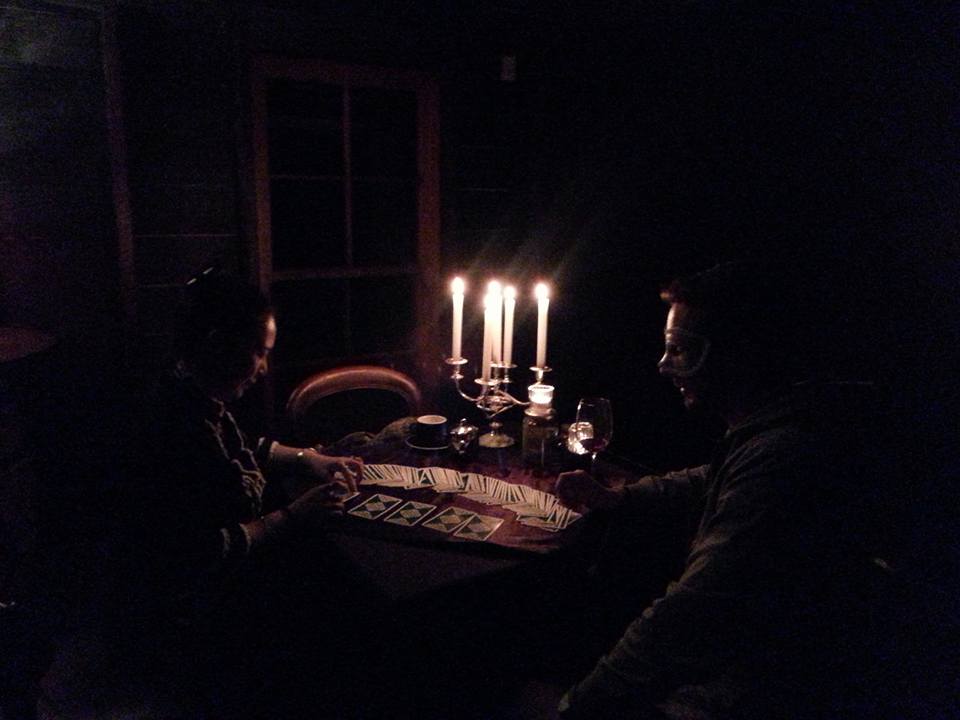 FCB New Zealand 2018:
Zamm was a highlight of our themed client party! Not only was she friendly and engaging but she was also very professional.
She was sure to make our guests feel at ease about the reading and converted some sceptics. She presented herself with flair and the wig was perfect for our Alice and Wonderland theme!
Finally, Zamm made the planning process very smooth as she was super responsive and easy to get in touch with. Charlotta C.
FCB New Zealand 2019:
Zamm was such a hit at the party last year that we absolutely had to have her back again this year, and she did not disappoint!
Everybody was super excited about their readings and her presence definitely a highlight of the evening.
As for our communications with her, she was quick, responsive and extremely accommodating, which is greatly appreciated.
Thanks again for a wonderful evening, Zamm! Juliana S.
StarNow
Zamm was a delight to deal with throughout the entire process of working with her. We used her fantastic services for a 15th business birthday party and the staff have been raving about her ever since. Not only did she arrive on time in the most fantastic outfit, she gave our staff a really unique and genuine experience of a tarot card reading. This meant most of our team spent the rest of the night discussing their readings – they absolutely loved it! She was professional to deal with, and incredibly understanding when the busyness of our event meant our correspondence was slow. I would not hesitate to recommend Zamm to another business throwing a similar event. Brilliant! Megan F.
"Tarot Zamm – Bachelorette night"
Tarot Zamm was so easy to deal with. Booking was no problem at all. The whole event went really well and everyone loved it. She was flexible in how the readings were completed. She was lovely for the whole time and everyone came away feeling amazing about it. The bride-to-be was blown away by the (scary) accuracy of the readings too, and loved listening to Zamm read the tarot cards for all her close friends. Would definitely recommend to anyone, and have already. ~TK19L, Wellington, N.Z.

Book Zamm for a Group Tarot Reading at your event.
Individual Clients TAROT Reading Reviews
"You come with a life vest for rescue"
Dear Zamm,
I've been hearing those readings and they give me some peace knowing that there are better times ahead. To be honest, I have been feeling like stuck in the middle of ocean without any support and there is no point in crying also for no one is there to do a thing and then suddenly you come with a life vest for rescue. This journey is hard, very hard, ….. but it's best to accept the situation with grace and dignity.
No words can thank you for your compassion your guidance and support. Ma'am people come to you with grievances and misery and leave your room with a ray of hope. I'm sure angels rejoice every time you help lost souls find their way. Thank you for being there and for doing this for all of us.
Sincerely,
KG, Wellington
"A really nice personalized reading"
A really nice personalized reading, very relevant to my current situation. I would recommend a reading with Zamm. I thoroughly enjoyed it. I would recommend the hour session. ~ A. F. , Wellington
"Incredibly accurate"
Well, that was incredibly accurate and what I believe in my gut to be the truth. It was very hard to read it spelled out so clearly in terms of what goes round and round in my head. I really appreciate it though, it makes me feel far more confident in my own gut feelings and in believing that I am right to trust them. ~G.K.K., New Zealand
"Absolutely fantastic and so true and spot on!"
I would like to say that your reading was absolutely fantastic and so true and spot on, exactly what I needed to know at the time and what helped me with my transformation.
I would definitely recommend anyone to experience reading with you and I personally will do it again, when the time is right :-). All the best ~G.J., Czech Republic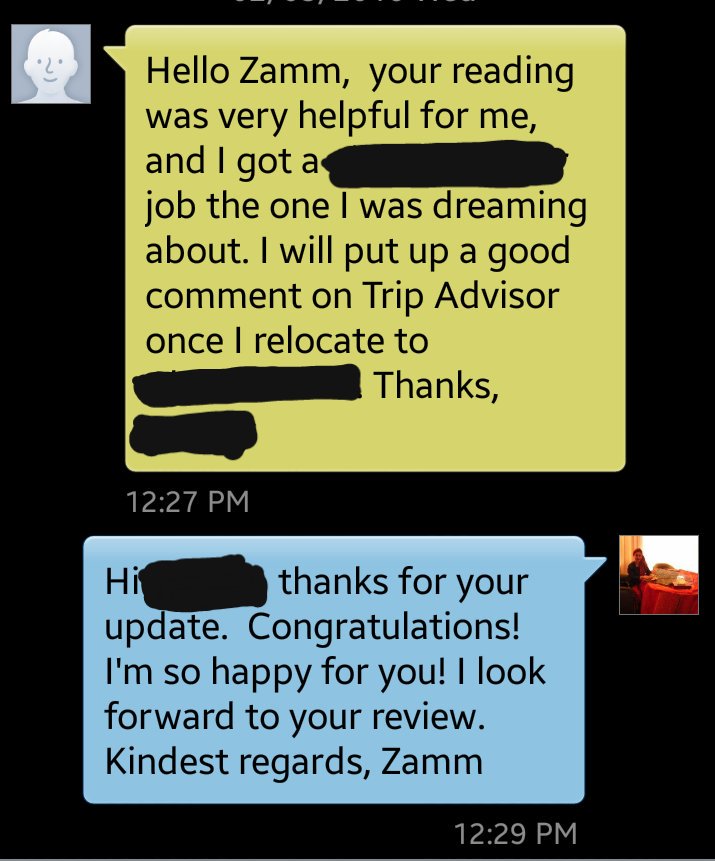 Click here to book a Tarot reading with Zamm.
"I was impressed at the speed and level of intuition that was being articulated"
Dear Zamm,
Thank you very much for the reading you did for Natasha and I. It was an amazing and eye opening experience.
I have nothing but positive feedback for you.
I was apprehensive at first because I have only recently been exposed to the Tarot. It is largely unknown to me and I think that that uncertainty created a measure of anxiety for me. But I was willing to be open to it and prepared to treat it seriously and with respect. I'm very happy that I did.
Your initial words reassured me that things were not set in stone and that free will is an important concept to remember when engaging with the cards.
I was constantly surprised at how I could relate to the information you were providing us with and I was impressed at the speed and level of intuition that was being articulated. The open reading immediately touched on issues that we were dealing with in our personal lives, which I find incredible. Specific things were mentioned that echoed almost exactly some things that Natasha and I had discussed earlier. This affirmed for me that we were on a positive path.
I was looking for direction and answers, and it seems like we asked some of the right questions because what you were channelling resonated deeply with me, and I am sure for Natasha as well.
I was so impressed and touched by what you told us, that I have recommended you to friends and family who I think will be receptive to it.
Thanks again, it was a very validating experience. ~Kristoph, Western Australia
"You can trust."
Many times also indebted to Zamm. It makes it the advice accurately using the tarot. Knowing myself what is happening inside me now by Tarot Zamm has become a very good teaching. You me to consult or without the New Zealand Zamm They will Tarot even using Skype. And, because I clearly told, and very helpful. It is recommended when helpless, when you want a advice to someone, you to consult with Zamm yourself. (translated by Google from Japanese)~Un U, Tokyo, Japan from Tripadvisor.com
"Fantastic Experience"
I had never had a reading done for me before but had been feeling very anxious about a lot of things in life so thought I would give it a go. After the reading everything she said had something to do with the things I felt I needed answers to or guidance. I feel much more at peace and calm than I have in a while. Definitely recommend and I will definitely visit again when I am in need of guidance. ~D.H., Wellington, N.Z.
"Timely advice"
I visited Zamm as there were a few issues in my life that I needed some insight to. Zamm picked them up easily and gave me feedback about what was really going on so that I could gain a better overview of my life right now. I can't know whether everything she said is accurate, only time can tell me that, but it was intuitive and on that level I know its wise to listen to her and keep her insights in mind as I go through this period. Have recommended her to my bestie and will be visiting again. ~P.S., Wellington, N.Z.

Click here to book a Tarot reading with Zamm.
"Highly Recommended…"
I am local to Wellington and I have visit Tarot Zamm on quite a few occasions. I find that each time I have been to get guidance, the reading is very accurate and reflects what is going on in my life at that time. I will not go back to any other tarot reader but Zamm. ~R.J., Wellington, N.Z.
"Accurate and spot on!"
It had been several years since I had a reading form Zamm for reasons of time and circumstances, but reconnecting with her was such a pleasure. Her insights that she gave me 7 years ago were spot on, and to my chagrin I would have been better off to have heeded them at the time. With her warm and caring manner, her insights are even more pertinent for me today. From my past experience I made sure I was listening more carefully! ~H. B., Glasgow, United Kingdom
"Highly recommend….."
I've had other readings before but found Zamm was so insightful & really comfortable. Highly recommend (if possible) for you to do a "face to face" reading as I felt this made the experience more meaningful, I've had phone readings with Zamm also and these were always good too but definitely prefer the face to face experience.
~2206Sammie
"Tarot reading"
I really enjoyed this reading, Zamm was really clear in the way she explained the cards, I could relate to everything she was saying, helped me to really think about what she had to say with my questions regarding my relationship, friends and career. She offered clear insights and options and choices. It was a really positive uplifting reading would highly recommend. thanks! ~A. S., Wellington, New Zealand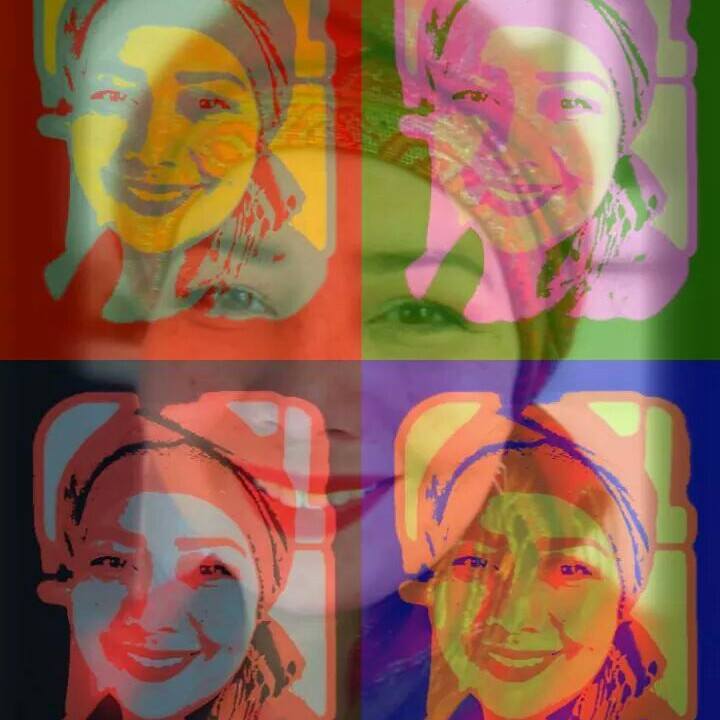 "Genuine guidance and readings"
There are many different tarot readers out there and I have been to a few or actualy many throughout the years but I tend to only come back to Zamm now. Not only is she accurate, very helpful but also a very sympathetic person.
She emphasizes what is really important to think about or not to forget as she is presented with things from the cards. She listens to you and you feel comfortable and will receive great insight.
If you are considering a tarot reading I recommend Zamm from my heart. ~Jarntorgspumpen, Stockholm, Sweden
"Very Good Reading"
I did a skype session from California for a half hour and really enjoyed it. I definitely could have gone to an hour, but Zamm gave a lot of great insights and advice with just the 30 minutes. If you have more than two serious questions/concerns I would recommend doing the full hour. I love that she made sure to emphasize that we all have our choice and hence did not come off as pushy in any way, or suggest that my world would come crashing down if I did not follow what she said. Zamm did a great job of making sure she answered all my questions, that I understood what she was saying, and made time for clarification when necessary. It was all a really refreshing experience. I would highly recommend her. The only reason I gave four stars instead of five is that I think I missed out on the entire experience because it was not in person. But it was still rewarding over the phone. So if you are in the states I'd recommend her if you are interested in a Skype reading. ~D. L. Provo, Utah, United States

Click here to book a Tarot reading with Zamm.
"Extremely insightful"
I've been to many different Tarot readers down through the years and can't recommend Zamm enough. I felt very comfortable in her company straight away and found her readings to be both extremely accurate and helpful. For some things she reminded me of what I needed to hear and reaffirm in my life, and for others, she offered clear insight into my choices and options. Overall it was an amazingly positive and comforting experience and one which I'll keep with me for a long time. I'd have no hesitation in recommending Zamm for a an honest, rewarding and positive experience. ~A.M., Wellington, N.Z.
"Great insight"
I was very pleased with the reading I received from Zamm because she showed me the options I could pursue in regards to my question and the outcomes that will follow. I love that she emphasized the importance of our agency and free will when it comes to the possibilities and paths life unfolds before us. Ultimately, the choice is always ours. I also liked that Zamm focused on positive things. I was never much into Tarot but I did a session because I received a recommendation from a good friend of mine. We both were not disappointed.
The general reading was very much spot on on what's going on in my life. The reading regarding my question brought clarity to my thoughts. I felt a sense of piece and comfort because it confirmed what I already felt. One thing that I have to say is that if you have a 30 minute session focus on one question. I received a solid comprehensive answer in that time but probably would need an hour to ask more. I am grateful I was able to receive insight from Zamm and I will be recommending her to my friends. ~Dudusya, Los Angeles, California
"Clear, concise and accurate tarot reading to get better insight into your current and future well being."
My experience was very comfortable and helped confirm my thoughts. The session helped create an insightful pathway to help re-think and organise current and future actions. Thank you for your insightfulness Zamm!
~L.eo165, Wellington, N.Z.
"Most accurate reading I've ever had!"
I've had quite a few readings over the years, but my reading with Zamm blew me away. She was so accurate, even down to the words she used to describe my situation, that she could have been plucking them directly from my thoughts. I could not recommend her enough, and I am sure I will be back for future guidance. ~J. L., Wellington, N.Z.
A+++!!!
Had a great session and learnt so much, thank you! Easy to use booking and payment too. Highly recommend! ~ Maddy, Wellington, NZ
"Very insightful"
Zamm's reading gave me a lot to think about and opened my mind to different exciting possibilities. I'm facing a difficult decision ahead of me, and Zamm's reading was able to show me different paths and give me the seeds I need to make the wisest decision for me. She started with an open reading which was very accurate and insightful to the things I am dealing with currently, and then allowed me to ask the questions that were pressing on my mind. I am now able to feel at peace about the road before me and move forward with confidence and direction. I will definitely be consulting with Zamm again whenever I feel the need for some clarity. I'm so grateful I was led to her. Tiffani B, Los Angeles, California, USA
"Accurate"
Ive been on tarot Zamm searching for some guidance and I was really impressed how accurate she was. She gave me details of my life, that i was trying to hide from myself. My consultation was very helpful. Thank you very much. ~ Goldengirl288, Wellington, N.Z.
"Pathfinder Zamm very accurate"
Thank goodness for Skype, the meeting with Zamm Was very accurately productive. she picked up what was inside of my heart and mind and dissected the cluster of negative events of my past like she has met me in the past…how she knew gave me goosebumps. you truly are a guide thank you I'll be consulting you again and will be telling people about our encounter. SO WORTH it!!!! ~ beacon22 – from Tripadvisor.com

Click here to book a Tarot reading with Zamm.

"Excellent, clarifying and encouraging"
I messaged Tarot Zamm one morning in a bit of a desperate attemtp to find some clarity. She was able to sort out a reading for me straight away, and was very accurate and helpful. I've had my cards read before and study the tarot myself, but I felt I needed some outside guidance. I will definitely go to her again; I did my reading over Skype and it didn't diminish the experience at all. I will definitely try to book one in person when I have more time to schedule one! She was very accurate without being vague, and provided guidance for more than one scenario/outcome.
LadyAshTree – from Tripadvisor.com
"Clarifying and Accurate"
I received an amazing reading from Tarot Zamm. I opted for the "open reading" and what came up was so accurate, I had goosebumps as I listened to Zamm. I have been stuck for so long, waiting for clarity to hit me, and then I got this reading and a wave of clarity washed over me. I've kind of known it in my heart but resisted the message from my inner guidance. Hearing it from Zamm, together with her divinely inspired guidance, helped me greatly in receiving, acknowledging and accepting the message. Zamm was able to sense my energy and really cut to the core of what was holding me back. Zamm is highly intuitive and I will definitely recommend her to anyone who wants guidance from a higher source and/or simply wants to release negative energy.
Guru O – from Tripadvisor.com
"Amazing!" – Tarot Zamm is an excellent tarot reader. I've been going to her for a couple of years now for more of guidance. She accurately senses the energy of the person during the reading and gives great intuitive guidance. I would recommend anyone to her whether you need guidance in life or need positive help with issues. I will definitely be calling her for another reading in the near future. ~ L.B. Los Angeles, California, USA
"Brilliant & Enlightening" – Tarot Zamm was very approachable and inviting in a comfortable way in all dealings. I first contacted Zamm by email and then I had a one hour reading face to face and I was amazed at how accurate the reading was and how welcoming it was to hear what was being said. Zamm went at the right pace, explained the cards and meanings clearly, asked the right questions to me, and allowed me to ask questions too. I would strongly recommend anyone to visit Zamm for whatever reason as the information will guide you in the path that you want to walk (or run in my case!) down and give you a clearer view on what that path can be. Thanks Zamm. ~ R.H. Seville, Spain
Zamm is a respectful, intuitive and comprehensive TAROT Reader. She asks the right questions to help you clarify your thoughts, and is careful to highlight the important pointers that the cards give us. I felt that I have gained a lot of clarity and understanding from my session with her. Thank you very much. ~ J.M. Buenos Aires, Argentina
I found my reading to be a positive experience. It helped me put some fears to rest, and it will allow me to continue to grow. Thank you. ~ Y.Z. Wellington, New Zealand
Very good reading – it's obvious that the cards have specific meanings so there is no influenced reading by a long initial conversation. Much needed guidance. ~ J.W. Wellington, New Zealand
A brilliant reading – very well discussed and explained. I will be back! ~ N.A. Wellington, New Zealand
I found so much comfort, validation and reassurance. The messages resonated so clearly.Wonderful and timely session. ~ B.A. Wellington, New Zealand
I enjoyed the reading. It brought up some issues that will be helpful this year in particular. Thank you! ~ F.N. Wellington, New Zealand
I really enjoyed the reading. I found it helpful and it covered an issue I'm currently going through. Motivating! ~ K.T. Wellington, New Zealand
I thought the reading was very insightful and helpful. I was surprised at the specific details that came through. It certainly has given me a great sense of clarity and motivation. ~ E.V. Auckland, New Zealand
There were details in the reading which are occurring already. I found the reading accurate in relation to the present. I find the reading empowering for the future. ~ R.J. Wellington, New Zealand
Zamm, thank you very much! Hugely insightful, on the ball, reassuring and brought much clarity. Great advice! Thank you. Peace, love and gratitude. ~ A.R.K. Wellington, New Zealand
I appreciate your willingness to answer my questions and to challenge my answers! You have given me a lot to think about. ~ C.M. Wellington, New Zealand
Thank you! It was a very engaging and positively delivered reading. Lots to think about; a good combination of ambition, challenge and peace. It reminded me that I should appreciate the things that matter more. ~ C.A. Wellington, New Zealand
Zamm, it's always an eye opener and a learning everytime I come to you. You guide me to the right direction and I am always pleased to have come to you. I will be in touch. ~ H.A. Wellington, New Zealand
The reading opened my eyes to focus a bit more on the important things in life. It surely help me see things I didn't know were there. Thank you. ~ U.W. Wellington, New Zealand
I wanted to thank you so much again for your guidance and advice the other day. It was if a light bulb had been switched on. I think I might have obstructed the switch up until now. I thought I would let you know that I started doing what I needed to do the day following your reading and am finding that so far, it is almost unfolding by itself. I always thought that I had to have all the bits together so I could plan this out, but it doesn't seem to be the way this is happening. I can't wait to see how this unfolds – it's exciting . Thank you sooo very much for giving me a push. ~ VP, Wellington, New Zealand
Thank you for a very thorough and realistic reading. Although you didn't shy away from telling me that the next few months would be difficult, the overall reading was positive and uplifting. I could appreciate the 'why' of the difficulties and see through them to the light. Many thanks. ~MM, Australia
Hi Zamm,
Thank you for your reading. I have been to tarot readers and psychics at different times in my life but have never felt so completely understood as by you. Thank you for reassuring me that I'm on the right track and for reminding me not to be complacent with my personal growth. Whatever the outcome in my romantic relationship, if I become stronger, wiser and kinder, then I am happy. I have faith that all will be as it should be because I am the master of my own destiny. Thanks again ~RH, Australia

Click here to book a Tarot reading with Zamm.
"Accurate no fuzz reader, very telling , was able to reveal past experience."
Tarot Zamm is an excellent card reader, her reading answered the question I had in my mind without having to tell her exactly what my queries were. Highly recommended!! ***** Thank you Tarot Zamm you are a rare gem of a reader. ~ T.O., Long Beach, California, USA – from Tripadvisor.com
I just wanted to say thank you for the reading you gave me, I have had a tough time trying to make sense of what has been going on in my life. I am back in Auckland and it has been good for me to have some sense of direction or at least a way to recognise what I need to look at in order to find a more positive direction and way to process what is happening. I enjoyed the reading and appreciated your honest approach and will call in the future and/or drop in next time I am in Wellington. It was a completely random decision to have a tarot reading that day and by chance I went into a shop that had your contact details on that day, I am glad I did. Thanks again. ~ FS, New Zealand
Thank you so much for the TAROT reading, it was really helpful This was my first TAROT card reading with you and the experience was awesome. Every question I asked, you did an excellent job of explaining the cards and giving great guidance. For those of you who never had a reading before or skeptical about tarot reading, I would encourage you to have a reading with Zamm. The reading will give you perspective and guidance on current life situations. ~ – LJ- Los Angeles, California, USA
Hi Ms. Zamm, I sincerely thank you for the TAROT reading you've done for me. You helped me find peace in that situation I was in and what you said really made sense.. It was not long ago when you did my reading but you are right. When I started let go and love myself more things got really better and lighter. There's a long way for me to go to see the great things you said that are stored for me but really, that reading lighten my load. I would definitely get another reading with you because unlike other Tarot readers, they only gave vague general reading and didn't give enough time. I am really satisfied with our session. I'm also recommending you to my friends that might need your help. Thank you and God Bless! ~ PA- Los Angeles, California, USA
I found the reading very enlightening and helpful. I will recommend my friends and family for sure! Thanks! ~ KN – Wellington, New Zealand
Thanks for your reading!!! It was interesting and fun telling you a part of my life and will definitely consult you again. I appreciate your professionalism and at the same time your good sense of humor. That was an excellent reading and very insightful. I enjoyed every minute of it and lots of thanks for the additional advice on top of the TAROT reading. More blessings to you! ~ H.F. – California, USA
Thanks a lot Zamm, for being a strong force n source to guide me n chanelize on things which were difficult for me to figure Will keep u posted Tc ~ I.A.- India
Wow!! everything you said was true!!… meeting you wasn't a coincidence!!
ever since I started to write my dreams last year amazing things manifest in front of my eyes, sometimes when I see it I feel like I was going to lose my mind in such way of precision.
you got it right in the spread! I am torn by two choices!.. but know I see it clearly thanks to you.
thank you Zamm for your help. ~ S.- Kuwait
Hi Tarot Zamm
Thank you so much for your TAROT reading. The messages are very helpful and relevant to my current situation. I do have a clearer understanding of where I will need to apply this knowledge. I have been going through an early stage of the process in change, as signified by the wheel of fortune. As a result I feel like I may have set the wheel in motion to attracting an existing love interest. However indications are still vague, but I do hope that something will progress. I will have to bear in mind the messages I've learned through your reading. I do intend to visit you at your workshop in Plimmer Steps, for further guidance at some stage in the near future. Thank you once again. Your help is very much appreciated. Regards ~ K. – Wellington, New Zealand
You gave a very accurate picture of my relationship – the deceit, and the pain. You also gave me the guidance I was looking for. Thank you. I will be back to see you again! ~ M.C. – Wellington, New Zealand
hi zamm,
thank you for that brief but really meaningful TAROT reading that you gave to me. without hinting on my current thoughts and pre-occupation, the chosen card revealed what must be done at this juncture in my life and with my undertakings. it awakened me in my sleep and gave me direction to follow what is important for me now. i kept a copy of the reading and will make it a guide and a map for me to achieve my plans. it is my sincere wish for you to help more people like me focus on the essential parts that will somehow complete the picture we wish for. thanks again and more power to your new found undertaking. regards, V.C. – Metro Manila, Philippines
Dear Tarot Zamm,
I had a TAROT reading with you and just wanted to let you know that it was very helpful. It was so accurate and clarified so much about the problem areas I had been agonising over, and gave me a sense of hope and inspiration about my life. You are very gifted. Sincerely, V.M.- Wellington, New Zealand
Zamm, very friendly and approachable , was able to see what was happening in my life .. and provided guidance to me as to choices i ought to make. Was very useful for me to decide what i need to do. Thanks for the excellent relevant reading. ~ A.P. – Wellington, New Zealand
Your TAROT readings were very insightful and comforting. I have a feeling you may see me often! ~ KH – Wellington, New Zealand
Hey Zamm, Thank you so much for the very accurate and systematic past life TAROT reading session we had via webcam. It was very informative and it gave me a better understanding of my present self.I will certainly spread the word to anyone interested in understanding their innerself better. It was a time well spent listening to your reading.cheerio!!! ~ J.D. – Los Angeles, California, USA
Everything you have told me has come true – getting married to an an older man, having a child. ~ M.B.- Philippines
Thanks for the TAROT reading, it was very helpful! ~ M.M.- Wellington, New Zealand
Dear Zamm, AMAZING, 50 PERCENT OF THE TAROT FORECAST IS NOW HAPPENING. I really hope the next 50 percent would be affirmations. All the best! ~ N.B. – Los Angeles, California, USA
Because of the TAROT reading which I received from Zamm, I was finally able to let go of a very painful episode in my love-life which had continued to haunt me for many months after the relationship had ended. It gave me the sense of closure which I had desperately needed. ~ K.H.- Wellington, New Zealand
Thank you for the TAROT reading, it was great! ~ K.S. – Wellington, New Zealand
at first i didn't realize what my February TAROT forecast meant, but after I realized it was about my job and how I had to look at the big picture. Quite accurate ! Will continue to update, thanks! ~ N.B.- Wellington, New Zealand
Your TAROT reading was very accurate. I'm thankful for the guidance your TAROT cards have shown me. I will definitely be back for more readings! ~ N.W. Beverly Hills, California, USA
The TAROT reading was good and thorough. Thanks heaps. ~ N.- Wellington, New Zealand
What you told me in the TAROT reading became real , your advise worked. I'm better now. Thank you. ~ A.- Wellington, New Zealand
Hi again Zamm! Your prayers worked. I did them the way you told me to. Thanks. ~ N.B.- Los Angeles, California, USA

Click here to book a Tarot reading with Zamm.
Disclaimer: TAROT Readings should not be substituted for the advice given by a medical, financial and/or legal professional. You must be at least 18 years of age or older to request one.