WELLINGTON, New Zealand – Aug. 21, 2018 – Wellingtonian author Zamm Zamudio's debut book – 'Intuition: Discover the Inner Workings of Our World Book 1' – was awarded the 5th place at the recently concluded 2018 Ashton Wylie Charitable Trust Book Awards. The awards ceremony was held at the Hopetoun Alpha, 19 Beresford Square, Auckland Central.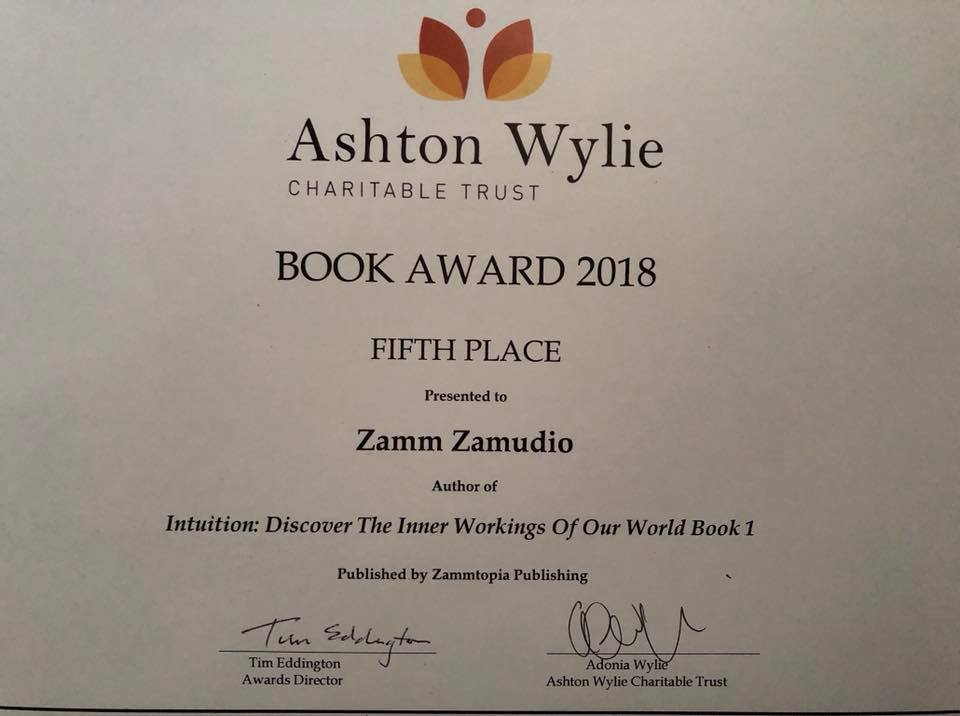 'Intuition' dissects the fundamental processes and elements that make intuition genuinely unique for every individual.
As one reader, Jamie Duncan, puts it, 'Writing a book about a subject that can be so ethereal and nebulous as intuition and yet make it seem natural, real and plausible to more sceptical or scientific minds is quite a challenge and I think Zamm Zamudio goes a great way to achieving her goal. 'Intuition' is not a feel-good introduction to and practice of the intuitive arts. It is a serious attempt to explain and analyse what is going on in us when we intuit and how we have acquired and used this skill. Zamudio presents intuition as a normal human process that has the backing of an immense amount of scientific research and takes the reader in an ordered methodical way from seeing a conceptual definition of the term to identifying examples of intuition in daily life. She clarifies any doubts about the differences between perception, insight, instinct and intuition helping us to understand which label applies to each different thought or internal experience of this type that we have.'
Tim Eddington – Awards director – said, 'There were 46 book entries in this year's Awards. Similar numbers have been received in previous years. It is evident that the mind body spirit genre in New Zealand is in good heart.'
Ms Adonia Wylie, writer Joan Rosier-Jones and journalist Mike Alexander – the judging panel – selected the winning work from the five finalists.
'This year's finalists were of exceptionally high quality, each of them beautifully produced, compelling works. It made our job in selecting a winner and the runner's up very difficult,' says Ms Wylie.
The 2018 Ashton Wylie Mind Body Spirit Book Awards winners (in order) are:
Murray Rae (Dunedin), Architecture and Theology: The Art of Place – Baylor University Press
Keith Hill (Auckland), The New Mysticism – Attar Books
J.P. Antill (Canterbury), Sophia Geography: Exploring Spirituality, Landscape and Archetypes – Harpagornis Publishing
Bryan Walpert (Auckland), Poetry and Mindfulness: Interruption to a Journey – Pelgrave MacMillan
Zamm Zamudio (Wellington), Intuition: Discover the Inner Workings of Our World Book 1 – Zammtopia Publishing
____
For more information and interview with Zamm Zamudio;
Book signing and workshop details; and sales and distribution of 'Intuition: Discover the Inner Workings of our World Book 1', contact:
Zammtopia Publishing
zammtopia@gmail.com
048890018
The Author:
Zamm Zamudio is a highly recommended intuitive consultant who has guided hundreds of individuals, from all walks of life and from all over the world, to find and pursue their paths with hope, clarity and confidence. She had lived across the globe and worked in diverse industries which gave her an evident appreciation of the different cultures and their distinctions reflected in personality, communication and learning styles.
About the Ashton Wylie Charitable Trust Book Awards
The Ashton Wylie Charitable Trust was set up following Auckland businessman and philanthropist Ashton Wylie's death in 1999 with the mandate of having human relationships as its focus, and its primary intent is to promote more loving relationships. It continues to significantly encourage and support writers in the Mind Body Spirit genre in New Zealand through its annual book awards – generously bestowing over $250000 in cash prizes to the winners since it started.
Contact
Zammtopia Publishing
***@zammtopia.com
Source: PRLog
Please follow and like us: